Traveling in Bavaria – Bavarian Forest group tours, seminar travel or youth travel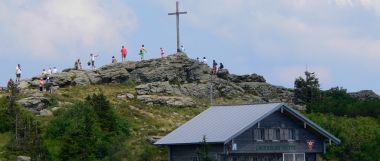 A trip to Bavaria can be very varied: Whether you prefer to hike, to cycle and to ride or just to relax and to lie in the sun – in the Bavarian Forest, you can find suitable leisure activities for everyone. The travel offers are as varied as the landscape of Bavaria is: group tours, seminar travel, business travel or youth travel. In the Bavarian Forest, families with kids will be as comfortable as seniors with dog or tourists with caravan. Wellness holiday or beauty holiday, short break on New Year's Eve or all inclusive – take a look at this website and gather information about the various travel offers. You will enjoy historic and culturell attractions like castles, museum, monuments and churches, but also the beautiful landscape with rolling hills and wide valleys.
Travel offers Germany – short break, wellness holiday, all-inclusive,…
Click on the top left on the icon, it will appear a menu with the cities and towns in the Bavarian Forest. Green markers are for farms, holiday farms and equestrian centers. Blue markers indicate Apartments and Villas. Yellow icons represent inns and guesthouses. Red markers represent hotels.
Request accommodation offers – hotel rooms, apartment, farm or guesthouse
Popular topics for vacation travel in Bavaria, Bavarian Forest, Lower Bavaria, Upper Palatinate …
Holidays and Travel in Germany – Travel Options and Travel Themes …